In 2014, a small sanctuary for rescued farm animals in country Australia – Edgar's Mission – launched a record breaking crowdfunding campaign raising $162,458 – their original target was $50,000. Together with the Edgar's Mission team, we dissected what made their campaign successful and what you can do to replicate their success. These are our top three tips:
1. Build your online audience, before your campaign
If you like Edgar's Mission's Facebook page, it will become very clear, very quickly why people have such a strong emotional bond with them. Instead of taking the usual path of animal welfare organisations – focusing on the negative, shocking imagery of people mistreating animals – Edgar's has taken a different tact. They focus on the positive stories of the animals that they clearly love. Their posts are personal, beautiful and uplifting.
This strategy has paid off as they've created a social media presence, where people enjoy interacting with them, which has allowed them to build up a sizeable, engaged audience. This audience, whether it's on Facebook, email or Twitter can make the difference between a successful campaign or one that goes nowhere.
Also, it doesn't necessarily take a few years to do this – and you don't need cute animal pictures. The important thing is to focus on content that people enjoy, rather than on what you want to tell them.
2. Choose the right project and market test ideas with potential donors
Like for most public fundraising, discreet, exciting, new projects work best for crowdfunding. The key in choosing the right project is to think about the audience that already loves you, and figure out what project will get them excited enough to tell their friends – in the online and offline world. If you can't imagine one of your supporters excitedly telling one of their friends about it over dinner, it's probably not the right framing of your project.
The other key thing that Edgar's did was to test their ideas with potential supporters. This process ensures that you do create something that your supporters will enjoy and often results in creating some of your best advocates for your campaign.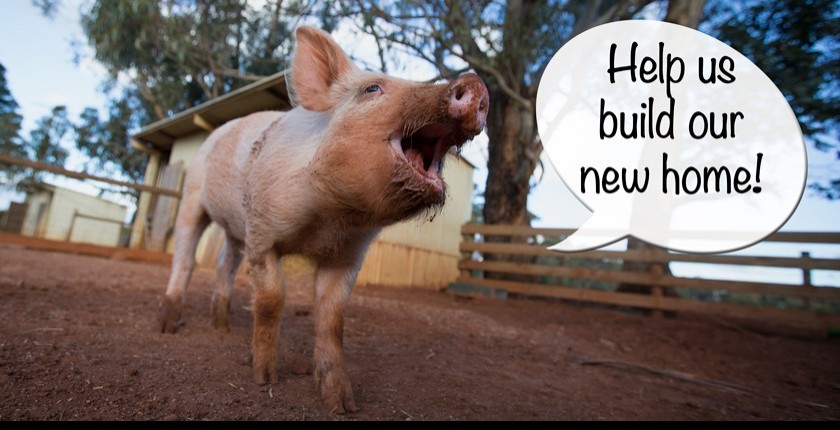 3. Give, don't take
What's clear in everything that Edgar's communicated to their donors was that they loved what they do and wanted to share some of that with their donors.
Rather than seeing the process as fundraising first, then reporting back later, Edgar's continuously involved their audience with what can only be described as beautiful content – including photos, videos and stories of their residents, first-person narratives about what's happening on the farm and their raw reactions to the support that their donors provided.
This continuous process of giving value to their audience, transformed the campaign from being about them needing something to being about them wanting to share something with people that they knew would enjoy it. The fundraising wasn't merely 'asking' , it was a true 'value-exchange'.
What's clear from the comments on their Chuffed.org page was that their donors got as much, if not more, out of the experience of the campaign as Edgar's did.
"Edgar's Mission is one of the best programs I am aware of on this planet. They have influenced my life for the better and have given me much peace knowing they exist."

– Deborah, a donor to the campaign 24/05/2014
---
Now Here's The Full Story
Background
In 2003, Pam Ahern started up Edgar's Mission, a not-for-profit sanctuary for rescued farmed animals located 70 km outside of Melbourne in Willowmavin, Victoria. Over the next decade, more and more animals found a home at Edgar's until in 2013, it became clear that the 300 plus residents needed more space.
It was time to move.
Over the course of 2013, we searched out a new, bigger home and we also began our fundraising campaign. In April 2013, we launched our 'Kindness Challenge' – a community fundraising appeal where we asked our supporters and volunteers to fundraise on our behalf to support us to buy the new farm. These community fundraisers ended up raising about $150,000 – a good start in purchasing the farm, but not enough to fit it out.
By February 2014, we were able to enter into negotiations to purchase what would become the new Edgar's Mission. At that point, we decided to change our fundraising strategy, to really involve people in the exciting part of the move. Our fundraising objective was clear – to raise funds to start setting up the infrastructure for the sanctuary to start moving the residents over as soon as possible. In addition we wanted to increase our donor base to help with the costs of running a new and larger sanctuary to make it financially sustainable in the longer term.
This was when we started thinking about crowdfunding.
1. The History – building up an online audience
Over the last 2 years, we had made a deliberate investment in building up our social media audience.
Our approach to Facebook was quite simple – try several different types of posts and see what worked. We told the animals' stories; tried competitions; had theme days like #ThankGoatItsFriday and slowly did more of what people liked and enjoyed and less of what they didn't.
The key for us was to keep it positive, not focusing on the pain, agony and mistreatment of the animals but on the joy, hope and fun that they brought to everyone. This approach applied with concerted, consistent effort started to pay dividends.
At the start of 2012, we had 5,500 likes on our Facebook page. By the start of 2013, that had leapt to 16,500. By the start of 2014, we were at 41,000 and by mid-2014, we were over 80,000. This audience – plus the email database we had started to build – would be the keys to our crowdfunding success.
2. Why crowdfunding and how we constructed our campaign
While there are more traditional ways to raise funds for capital projects, we decided on crowdfunding as it was the best way to raise funds quickly as well as actively involve our donors. Other ways of fundraising were very mono-directional, but crowdfunding allowed us to have an intimate relationship with our supporters during and after our campaign.
Our first choice was to decide which crowdfunding platform to go with. After looking at different crowdfunding platforms we decided to go with Chuffed.org because they were a social enterprise that was set up to run and assist non profits to fundraise.  There were no fees and credit card costs were the smallest compared to other platforms.
In terms of the design of our campaign:
We decided on a 60 day campaign, which is slightly longer than the average campaign length of 30-40 days, as we wanted to give ourselves plenty of time in case things didn't go to plan
We wanted to use perks as a way to allow our supporters to participate in the new Edgar's. In order to design perks that people would actually want, we held a meeting with 10 core volunteers to expand on our ideas for the campaign as well as perk ideas. We grouped individual ideas by theme then selected a specific number and matched them with perk values. This was extremely beneficial as many of the perk ideas stemmed from this meeting and a number of this group donated significant amounts early on in the campaign.
We were fortunate that one of our staff members, Kyle, was able to film and edit a campaign video which used our Founder, Pam, to tell the story of the campaign. We used video updates as a simple way to help connect our supporters up with our team and the campaign.
We decided on a 'Keep what you raise' style of campaign, rather than an 'All or nothing' campaign as we didn't know how well we would do at that stage.
An example of a perk:
3. Launching and what do to do when things don't go to plan
To make sure we were prepared, we had mapped out a rough timeline of different photos, videos and stories we could share to keep the campaign momentum alive but this plan had to change quite quickly as things didn't quite go to plan.
On the morning of 26th March, we launched our campaign by sending out an email to our supporters with a link to the video and the campaign and later in the afternoon, posting on Facebook.
The response was astronomical. In the space of 3 days, 272 supporters contributed to our campaign, and we hit our initial target of $50,000, 57 days ahead of schedule. We were faced with one of those problems that fundraisers love to have – what do we do now?
Talking to the Chuffed.org team, we decided to set a new stretch target of $100,000 but were conscious to explain to supporters explicitly what the extra funds would allow us to do. We framed the stretch goal as allowing us to build the Edgar's Mission that we dreamed of and that the animals deserved, which included building a goat mountain, an animal hospital and a magical duck pond.
4. Keeping momentum going
When we hit our first target, we sent out a second email thanking everyone for the amazing response. This email and the subsequent celebratory Facebook post spurred another wave of donations. By the end of our first week we had raised $66,000.
At this point, we decided to lie low for the middle of the campaign and push all our content in the last 2 weeks, instead of evenly pacing it out. The reason for that was that the momentum of crowdfunding campaigns is such that most donations come in the first 10 days and the last 10 days, so it made more sense to concentrate our effort and the break gave our supporters some breathing space from receiving campaign-specific content.
During the last 2 weeks of the campaign we launched a video of Edgar's Mission Ambassador and Australian Cricketer Peter Siddle with his partner Anna Weatherlake at Edgar's Mission promoting the crowdfunding campaign and in the last week of the campaign we launched the Polly Pig $10 Facebook challenge.
We have a very active Facebook page with many people following our animals stories and we wanted to give people an opportunity be part of the new sanctuary knowing that not everyone had the funds to sponsor a fence ($1000) or a shelter ($2500) – two of our high-value, highly-sought-after perks.
The Polly Pig $10 challenge was a Facebook-only offer, so that for a donation of $10 your name would be listed on a plaque on a structure at the farm. The more money that was raised (in total) the bigger the structure that would be sponsored. In the space of a few days, 438 people donated $10 and the renewed momentum prompted many higher value donations as well.
By the 14th May, 49 days into our 60 day campaign, we crossed the $100,000 mark. At this point, we decided against increasing our target again, as we thought it would lead to confusing messaging to our supporters.
The last few days were very exciting as we passed $150,000 and finished with a grand total of $162,458 with 1,787 supporters from over 14 countries making this the largest Australian non-profit crowdfunding campaign on any major platform, as far as we can tell.
What's even better, nearly half of those who donated were first time donors to Edgar's Mission.
---
Key Campaign Statistics
Total raised: $162,458
Number of donations: 1,787
Number of new donors: 800
Number of countries that donors came from: 14
Average donation size: $91
Largest single donation: $10,000