At Chuffed.org, we are privileged to see amazing campaigns launch every day. Our favourite thing is when campaigns take off to raise bucket loads for their cause or blitz through their fundraising targets.
Here are the Top 10 Animal Welfare Crowdfunding Campaigns – the ones that have raised the most money for their awesome projects and initiatives.
1. Help Us to Help Them: Bring White Rhino to Altina – $197,503
In 2016, the staff at Altina Wildlife Park in the New South Wales Riverina (in Australia) took their passion for animal conservation one step further, deciding to import three Southern White Rhinos – Mtoto, Mango and Tatu – as part of a global breeding initiative.
They raised a substantial amount of cash – $197,503 – to move, feed and house the animals in the biggest animal campaign yet on Chuffed.org.
Check out the campaign page here.
2. Duke's Place Called Home – £90,360
Duke the Bullock, who was born a dwarf and sustained debilitating pelvic injuries while young, was rescued by a UK family and taken into their North Yorkshire home, along with countless other farm animals that were no longer seen as valuable by their former owners. Soon their kind-hearted endeavours became CALF Sanctuary and the family and animals all required a new home – one more suitable for Duke and his friends.
When they asked, the community rallied and contributed a huge £90,360 for the purchase of a suitable property and the relocation of all the animals to their new home.
3. Raising the Roof – $162,458
Edgar's Mission Farm Sanctuary houses rescued farm animals on 153 peaceful acres in Victoria, in southeastern Australia.
Named after founder Pam Ahern's first rescued pig – Edgar Alan Pig – the sanctuary's first Chuffed.org campaign went bananas, raising $162,458 to build bigger and better lodgings for all its animals. This included goat mountains and jungle gyms, a purpose built duck pond complete with waterfall and a chicken barn called the 'Barn Mahal'.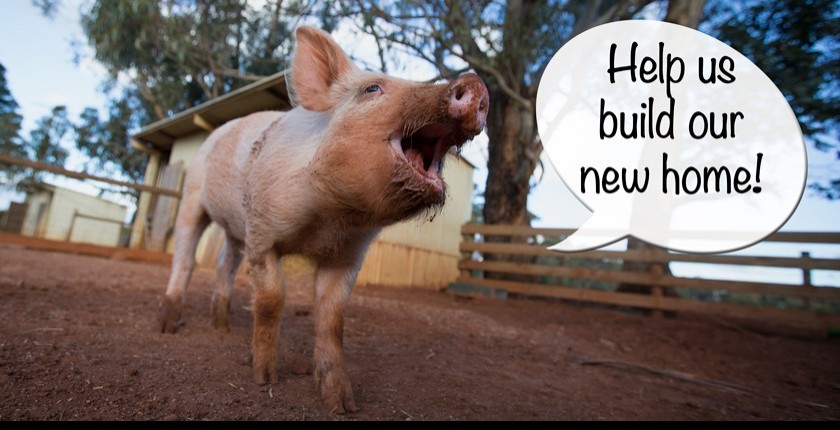 4. Create a Vegan – £82,096
What is Veganuary? The UK-based charity encourages people to try out a vegan diet in January (and at other times of the year too!) to reduce the number of animals in the farming system, our impact on the planet and improve our health all at the same time. They find a huge 67% of people who participate in January, stay vegan throughout the year.
Their #CreateAVegan campaign raised £82,096 to spread the word about Veganuary via advertisements on public transport in four cities across three countries: London, Manchester, Boston and Sydney.
5. Project Piggy Paradise – $132,031
Another awesome campaign from our friends at Edgar's Mission Farm Sanctuary – this time to build a swanky new home for the sanctuary's rescued pigs. One that not only provided shelter, shade, warmth, showers, veterinary treatment areas and the like, but could also inspire change in the way pigs are viewed in our wider society.
Edgar's raised $132,031 for the new facility which will allow the public – who can book in to visit – to see the unique and endearing personalities of pigs shine through, and come to a better understanding of these quirky creatures as much more than the before of a ham sandwich.
6. $120,000 Kindness Challenge! – $128,172
Edgar's Mission Farm Sanctuary were at it again! They asked supporters to help them raise $120,000 – which they outdid in a $128,172 raise.
The appeal saw them able to buy essential to get through the winter including over 1 tonne of fruit and veg, 100 new tools, 50 fruit trees, over 500 bales of hay, 5 new shelters, solar panels and a 4WD Utility Vehicle.
7. You Can Save The Lives Of Homeless Dogs! – $83,495
Stray and mistreated dogs are a sad reality on the streets of Thailand's cities and in other parts of Southeast Asia and the US-based charity Soi Dog Foundation has been doing something about it since 2003.
In 2015, the Foundation raised $82,495 towards the cost of building an animal hospital at their shelter in Phuket.
8. Raise the Roof – £40,395
After the move to a property suitable to housing Duke the Bullock and his mates, Sharon and her family at CALF Sanctuary returned to Chuffed.org in 2016. They raised £40,395 to build a new barn to house the (increasingly social) Duke and: 5 cows, 5 pigs, 4 goats, 30+ sheep and lambs and a smattering of turkeys and chickens.
9. Build a New Home for Mountain Lions – $53,655
The Center for Animal Research and Education (CARE) in Texas provides a safe forever home to big cats and other exotic animals no matter what their history or needs. The CARE property is currently home to 50 animals including mountain lions, African lions, tigers, black and spotted leopards, bobcats, ring-tail lemurs, llamas, and a coati.
When asked by the Dallas Zoo to take in two new mountain lions they stepped up and raised $53,655 to build them a proper home.
10. Help PetRescue Fix the Pound – $63,347
PetRescue partner with over 750 animal rescue groups and shelters all over Australia – helping them to re-home hundreds of thousands of unwanted, lost or abandoned pets each year. This campaign – which raised $63,347 – helped them to reach out and partner with more Council-run pounds, only 1% of whom were using PetRescue's free rehoming services at the time, and where, sadly, the majority of unwanted animals are still put down.
But wait, there's more!
If you'd like to check out all of the Animal campaigns we've hosted on Chuffed.org, you can search them all at our Discover page.
*Campaigns on Chuffed.org raise money in their local currency. This list is ordered by campaign size in Australian dollars.